Cloud kitchens
, often also known as
Ghost kitchens
,
Dark kitchens, virtual restaurants
or
Digital kitchens
is a word used for digital restaurants and this industry is one of the fastest growing in the world and in India itself this could grow up to 2 Billion dollars by 2023
A cloud kitchen, ghost kitchen or a dark kitchen is a delivery-only restaurant that has no physical space for dine-in. It relies entirely on online orders placed through online food aggregators like Zomato, Swiggy, Jio delivery  or Amazon delivery or an online ordering enabled website or mobile app owned by the food brand. The delivery in such cases could be managed by aggregators or the brand itself.
Lately, there has been a trend and movement called order direct initiated by NRAI which promotes restaurants to have their own delivery system independent of aggregators like Zomato & Swiggy which eat away huge margins out of a restaurant's balance sheet.
There are multiple companies henceforth which enable restaurants or cloud kitchens to have their own back end integrated website for taking, processing and delivering orders by themselves. Some of the prominent players in this field are Thrive, Dot pe, Petpooja, Urban Piper etc.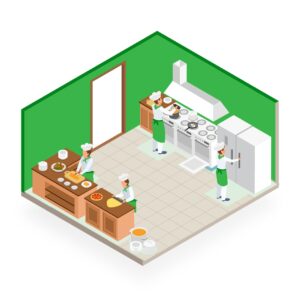 Where are cloud kitchens located ?
Cloud kitchens locations are usually around delivery hotspots in cities , not necessarily in prime real estate locations but in surrounding areas with cheaper rents as the purpose of the a cloud kitchen is to be visible digitally rather than being accessible physically by customers.
Who can start a cloud kitchen ?
Well, the industry has a low barrier to entry with investment being low, so lately there has been a rush of solopreneurs who entered this industry from diverse backgrounds thinking this is where the money is.
So currently we see a lot of Cloud kitchens being run by first time entrepreneurs, Food & beverage professionals who shifted from full time jobs to starting their own cloud kitchen, Enterprise brands which are scaling faster than ever and multinational chains which exist physically but see more coverage via this mode of expansion.
Cloud kitchen business is tough, so tough that 80 percent of cloud kitchens shut down within 12 months of launch with the primary reasons being over crowded space with immense competition, lack of financial skills, mediocre or no marketing and a belief that I have a better product that the others without any validation.
But for people who understand the nitty gritty of running a tight ship, Cloud kitchens are a fantastic opportunity at scale.
You can also read about whether this is the right business for you by clicking here 
Okay so first you need to choose which model do you want to build as cloud kitchens are of 8 different types with each one having its own pros and cons – you don't need to be an actual food operator and can choose to be in other services like CO working kitchen spaces within this industry
Single brand Cloud kitchens
Multi branded Cloud kitchens
Hybrid Cloud kitchens
Hub and spoke – Owned Cloud kitchens
Hub and spoke – Hosted cloud kitchens
Co – working Cloud kitchens
Managed kitchens
Franchised Cloud Kitchens 
Single brand Cloud kitchens mean one location (rented or owned), one food brand and the pros are limited manpower, reduced fixed expenses and focused marketing budget. 
Multi branded cloud kitchens mean one location (owned or rented) and multiple brands from operating within the same kitchen for example a north Indian brand, a biryani brand and a wraps and rolls brand all operating from within the same kitchen but being 3 different outlets in the eyes of the customer and on aggregators.
Pros of this are more leverage in revenue generation, capturing more digital real estate and the cons are higher costs because of different packaging required, higher manpower costs because of skill sets required and higher marketing budgets because each brand is treated as a separate entity.
Hybrid Cloud kitchens are places which have a physical store front combined with a delivery model built in and the pros are dual avenues of revenue generation and the cons are higher rental and higher CAPEX since the storefront need to be presentable as well.
Hub and spoke – Owned Cloud kitchens are brands which have a central kitchen for manufacturing to bring in economies of scale to food production and multiple cloud kitchen locations around a geography selling the same things under a single brand entity.
Pros are Economies of scale and reduction of manpower at unit level and cons are higher fixed costs at central facility and of rental at multiple unit level.
Hub and spoke – Hosted kitchens are brands which have an owned central kitchen facility of their own or outsourced to a commissary kitchen and their outlets are usually hosted inside managed kitchens instead of their own rented kitchens.
Also usually called KIK (Kitchen in kitchen) these usually carry a lower fixed cost burden at unit level as they are mostly revenue share arrangements with the hosts
Co working or shared cloud kitchen spaces are large kitchen areas which are leased out and developed by an organized player like Kitchens centre further divided into 5-6 spaces and leased out to different brands with common services and basic infrastructure.
These are quite low cost and take care of most of the CAPEX requirement by food brands thus coming out as the most sensible choice while starting a cloud kitchen.
Managed kitchens are kitchens which are fully equipped facilities designed to host enterprise or well established brands and the food is prepared by hosts for them with al costs being taken care of by the hosts.
Franchised cloud kitchens are cloud kitchens which franchise a brand and operate it from within their existing or newly setup cloud kitchens.
Pros are lesser effort and money required to build a new brand and cons are the high setup fee and a recurring loyalty fee or revenue share paid to the the franchisor.
To take a franchise click here 
How to rent a cloud kitchen space if I wish to start a cloud kitchen business ?
Here are the choices you can make while starting up
Rent a bare shell space in a hotspot location and build a kitchen yourself – usually high CAPEX required as everything needs to be built from scratch and lot of technical work is typically required in a kitchen like HVAC, MEP, waterproofing work, gas bank etc.
Buy an existing cloud kitchen from sites like Cloud kitchen exchange from people who are coming out of this business which primarily happens because of overconfidence in the beginning
Create a brand and a central kitchen and tie up with host locations – a network of kitchens which are usually underperforming and wouldn't mind hosting your brand to make an extra buck – Cloud Kitchen Exchange can help you do that 
Tie up with a managed kitchen who shall do all your production in their location based on your standardized recipes – this however is suitable for brands which are a higher level of automation and standardization as lot of technical knowledge is to be passed on for the managed kitchen to produce your food
Where do I buy kitchen equipment from ?
Here are the choices you can make
Buy brand new equipment from vendors
Buy used equipment from dealers or exiting cloud kitchen owners at a discounted price
Rent kitchen equipment from organized companies like A2Z on rent instead of buying outright
How do I sell my food in a cloud kitchen model ?
Depending upon which geography you are in you the following options where you could sell your food online
Zomato

Swiggy

Dunzo – as a merchant

Jio delivery

Amazon fresh

Your own website with ecommerce
How do I deliver food orders from my cloud kitchen ?
In case of Zomato, Swiggy, Amazon, Dunzo and JIo – the aggregators will take care of your food delivery and their riders will pick up food once the order is marked ready by you or within a certain period after receiving the order.
In case of your own website enabled with restaurant ordering service, you would need to tie up with last mile delivery partners like Dunzo, Shadowfax, pidge etc which need to be integrated with your site to make the process faster
If your website is enabled by the likes of
Thrive
,
Dotpe
,
Petpooja
or
Urban Piper
, the delivery integration is already built in the back end and you do not need to tie up with the above last mile delivery partners.
How do I build my digital presence ?
Social media marketing & SEO shall remain the most important things you do when starting up a new cloud kitchen brand and once you establish yourself, a good CRM shall be the key along with the first two.
You need to have your presence on GIFT (Google, Instagram, Facebook & Twitter) & Linkedin basically if you are building a company and brand with a long term vision and additional platforms like snapchat, tiktok etc will remain as lesser explored spaces for many years but some have been able to use them brilliantly.
SEO on the other hand of your website will be the ultimate revenue generator in long term as it caters to users with intent rather than consumers of data on social media.
SEO again would be divided into multiple techniques like On page SEO, OFF page SEO, technical SEO & local SEO and it is advised that you hire expert people to do this for you.
Cloud kitchen Exchange offers awesome SEO services and some of our clients include Masterchef Ajay Chopra, Two Wholesome Bakers & Buns in Oven.
Are Cloud kitchens profitable ?
To know more about whether this business is right for you, click here 
This article is meant for New Entrepreneurs and is written to help clear the basic understanding around Cloud kitchen business in India.
It is recommended that you hire the right consultant to advise you in detail if you wish to start in this space. If you wish to speak to a consultant, click here 
I have a Cloud kitchen, How do I grow or increase my sales  ?
Your food may be great but it's not the only thing which matters when it comes to Cloud kitchen business
There are plenty of things which need to be right if you wish to grow your business including your Brand Image & Positioning, Menu pricing & portions, Optimized Fixed & variable costs, Great Food Packaging, Less dependence on aggregators for sales, a SEO friendly website with last mile delivery integration & most importantly your digital presence & SEO
If you can't be found as the first preference, you aren't even in the business – you are in "busyness" 
The best way to slowly kill a business is to be on the second page of Google 
Cloud kitchen exchange offers a growth module for exiting cloud kitchen owners, contact us via whatsapp today to know more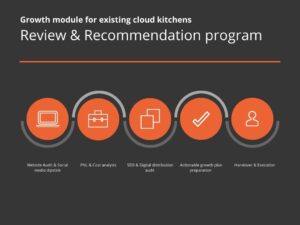 Cloud Kitchen Exchange is a springboard for Food Entrepreneurs in India
We help New Food Entrepreneurs to start their food business, existing brands to earn more revenue from their kitchens by hosting external food brands, Enterprise brands to scale via real estate search & food chains to standardize their food products via our back end services
We help Entrepreneurs in opening up Single brand cloud kitchens, Multi branded kitchens in a single location, Hybrid food concepts (physical + digital), Digital brands (multiple hosted kitchens with outsourced food production) and franchising of brands (Franchisors & franchisees both)
Get in touch with us today to learn more
We mentor, consult & nurture Solopreneurs & help Organizations to grow and scal