Low cost of entry and good margins is what's attracting many individuals and big restaurant companies to open Cloud Kitchens.
Here is a complete guide on How to start a Cloud kitchen
Any individual who wants to enter food business play their first bet with Cloud Kitchens.
Food tech has reduced the gap between a restaurant and a consumer. It is not necessary to have a physical restaurant now. A decent kitchen & good location is all you need to start a profitable cloud kitchen. Many big players like Rebel Foods, Fresh Menu, Box 8 etc. run several brands through their network of cloud kitchens in the Delhi NCR.
With this article, we will take you through some important steps that will help you to start a Delivery Kitchen or a Cloud Kitchen as it is generally known.
Location Location Location !!!
The most important and a crucial decision is to find a great location. In the cloud kitchen model, you do not need to worry about real estate cost of a high end market place or an address. All you need is a good mix of consumer demography and the cuisine that you select. It usually costs about 20k – 30k a month for 300 – 400 sq. ft space for a base kitchen, which may go up to 40K – 50K depending on the area & location.
Kitchens Centre is India's largest Co working Kitchen OR shared cloud kitchen space provider which deals only in commercial kitchens on rent
If you are wondering where do I find a space for cloud kitchen on rent, visit Cloud Kitchen Exchange today and start your delivery kitchen in 30 days
Aggregator Tie-up
Cloud Kitchens mainly rely on tie-up with online aggregators, mainly being Swiggy & Zomato, who take orders for you and deliver them to your guests as well. They usually charge 20% – 25% commission on orders. Only delivery aggregators like Shadow Fax & Dunzo only deliver on your behalf and do not have any network to take orders.
However we would also suggest that a delivery kitchen should have their own set-up to take orders through online or offline medium and a couple of delivery boys to deliver to nearby areas for quick service or for bulk orders and save on commissions paid to aggregators.
Kitchen Equipment
When you start a delivery kitchen, keep in mind that you do not have to show your kitchen to guests, which means, you can invest in minimum equipment that can be branded or fabricated as per your need and the cuisine you serve. Kitchen equipment of good quality will last long and will help in convenient & smooth operations of the kitchen.
If you are testing waters, buying second hand equipment can also be a wise alternative rather than purchasing new equipment, however make sure to check for warranty or maintenance cost.
Kitchen Staff

The secret ingredient for a successful restaurant is the team, and a chef is a key employee. A chef not only cooks, but also helps in designing the menu that will be served from the kitchen.
You will at least need two chefs, two helpers and one house keeping staff for a smoother kitchen operations. You would need one manager or order taker, to take orders online or through telephone. Depending on their experience, a chef would charge between Rs. 15000 – Rs. 17000 salary and they will be of a Commis 1 level. Helpers can come come within a salary of Rs. 10,000 – Rs. 12,000 based on their work.
Uniform for Staff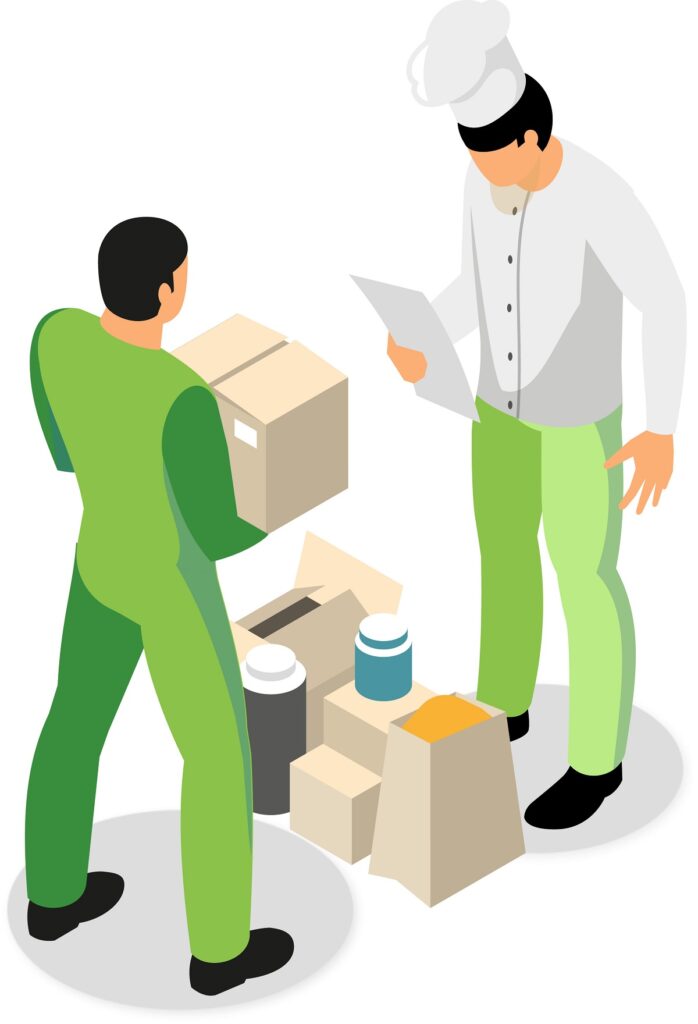 Somewhere you may think that uniform may not be required, however, to maintain discipline, hygiene and cleanliness, it is much needed, even in a delivery kitchen. You can take marginal quality uniforms from various vendors available in the market. Uniforms can cost you anywhere between Rs. 7000 to Rs. 8000.
Packaging Material
Since you do not have any physical restaurant or direct customer contact, your packaging is the first contact that you make with your customer, even before they taste your food.
A good packaging will speak of your brand, hygiene levels and quality of food. However, please note that it is not imperative to spend huge money in packaging alone.
Packaging should be good enough to hold food till it is delivered and consumed, should be of food grade, at the same time sooth the eyes and protect food from any pilferage.
Marketing
Marketing plays an important role in bringing your brand closer to your target audience. As it is important to push your brand to your customers through aggregator platforms, it is also important to have a social media presence.
People might order your food by reading your restaurant reviews on Zomato or Swiggy, however showing customers images or videos on Instagram also plays a vital role in generating orders. Influencer marketing also plays an important part in taking your brand to customers.
While cloud kitchens look lucrative business option, one needs to be on their toes to make it a success. A right mix of location, cuisine and team can create your cloud kitchen into a lucrative business, helping you to scale it up further.
Cloud Kitchen Exchange helps you to create strong business plans and a go to market strategy for your restaurant business.
We know restaurant business like no other.
Originally published on
https://www.smarterinvestor.in/post/do-you-want-to-start-a-cloud-kitchen-here-is-a-complete-guide